近日,培优招收到很多来自海外国家及地区的同学们。
为了展示我们一视同仁的态度!
今次特地为大家准备了红人计划国际版简介
方便海外学子享用!
撒~我们出发吧~
MANGO STAR MAKING PROGRAM
Are you eager to shine,
dare to chase your dreams?
Have you got talent
to show on the stage?
Are you working hard and
lacking professional guidance?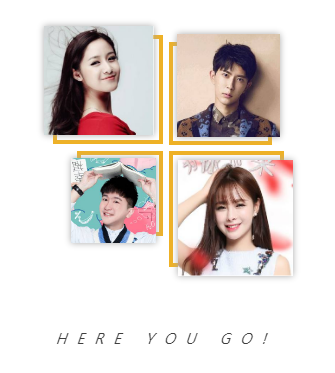 Come join
#MANGO STAR MAKING PROGRAM#
We have everything you want!
Phenomenal idols
+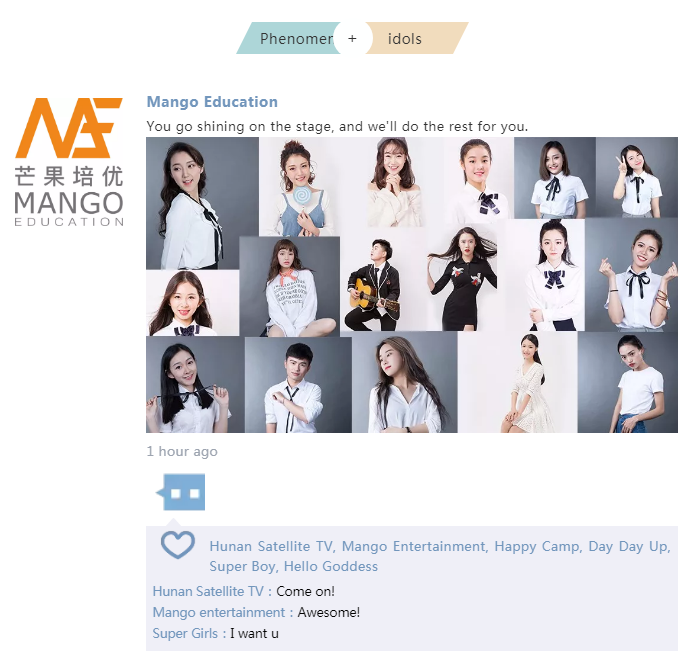 //WHO WE ARE//
Mango Education is an artist cultivation system belongs to Golden Eagle Broadcasting System(GBS). It is the most promising professional star-making platform in the new media era, and dedicates to be the "Whampoa Military Academy" creating artistic talents in the new media era.
//WHAT WE DO//
Design the most valuable star-making program. Connect with the most extensive network of performing arts resources. Provide the most professional content planning team.
What you think of and out of your think, we will pack it for you at once!
+Vocal music performance
Cavity resonance,
Chest resonance,
Mispronunciation,
Breath instability,
Intonation rhythm,
...
Analyzing tracks in professional way
makes your songs more touching.
+Body shape and dance
Stiff body becomes soft.
Bulk dance becomes soft.
National dance,
Modern dance,
Jazz dance,
Ballroom dance,
...
There is always one for you.
+Performance art
Liberate your nature.
Every face is brand new to you.
In front of the camera,
the action shows its expressiveness.
Under the fiction of art,
experience the vitality of works
from sensibility to rationality.
Consolidate the basics of the words.
Align with the old artists
and the fabulous production teams.
+Broadcasting and hosting
Renew your speech.
Improve your voice,
emotion, and lines.
Build personal confidence
in your training.
Learn to speak in the public.
+Communication
How to make people like you
in the first place?
Looks simple,
but there is a catch.
How to deal with the medias?
How to deal with embarrassments?
There is a way.
+Etiquette and manner
There are countless pairs of eyes
watching your every move.
The things you are used to
are always gonna be magnified.
Learn common etiquette knowledge.
Enhance personal temperament.
Easily deal with snapshot, street snap,
and candid camera.
+Makeup and beauty
Keep up with
the lastest fashion trend.
Find your unique qualities.
Cultivate your fashion sense.
Add them to your natural beauty.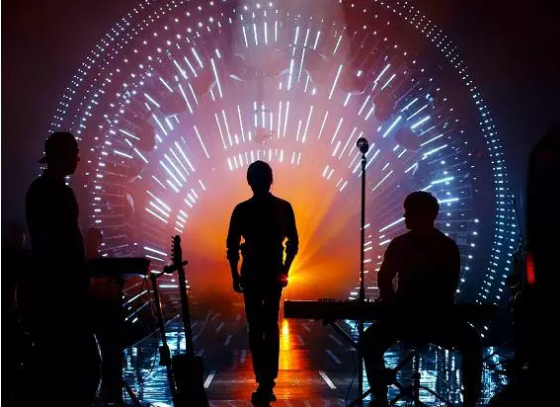 2019 Mango Education
invites everyone
who loves arts
and holds a dream
to join
Mango Star Making Program.
reply
name + contact information
from the main page
or give us a call
0731—83296530
or just come for us!
Hunan TV Station, #480 Deya Road,
Kaifu District, Changsha City,
Hunan Province, China
Start your journey with us
from here.
Mango Edu
Waiting for your dream